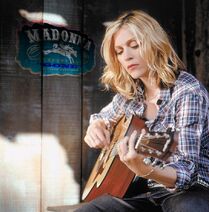 "Gone" is the title of a song included on Madonna's eight studio album Music. It was written by Madonna, Damian LeGassick, and Nik Young.
Song Information
Edit
Little is known about the song's origins besides its composers. In the song Madonna talks about loving someone, but the only way she feels that they will love her back is by changing herself, which she won't do. So the only thing she can do is "walk away", she'll rather be "gone before it happens", she'll try to let go.
Live Performances
Edit
"Gone" has only been performed once, in the Drowned World Tour on 2001, it was included as the last song of the "Western cowgirl" segment, it featured Madonna motionless, by herself singing the song on stage. A very intimate performance.

Drowned World Tour
On some selected shows of the Drowned World Tour, "Gone" was replaced by "You'll See".
thumb|300px|left|Gone thumb|300px|right|Gone Live at Drowned World Tour