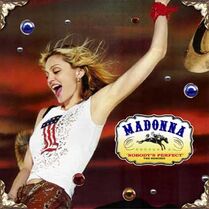 "Nobody's Perfect" is the title of a song included on Madonna's eight studio album Music. It was composed and produced by Madonna and Mirwais.
Song information
Edit
In the song Madonna asks for her lover's forgiveness, she made a mistake and "feels so sad" since what she did "is not right". She begs for her lover's forgiveness by telling him that "Nobody's perfect" and that she will "do (her) best".
Live Performances
Edit
The song has only been performed at the Drowned World Tour. It was included as the second song of the "Geisha/Anime" segment. At the beginning of the song we can hear some of Open Your Heart's opening music, though in a very japanese-like way. in the performance we see Madonna begging for her samurai master's forgiveness. She runs towards him, puts her head on his shoulder and finally kneels down for him. Then the master takes his sword and cuts off her talisman. That's at the point where she sings the second 'Cool I am', this time with a natural voice, as if loosing the talisman changed her voice.

Drowned World Tour
thumb|300px|left|Nobody's Perfect thumb|300px|right|Nobody's Perfect Live at Drowned World Tour